Tsunami-Addiction & TEAMS présentent Let's Kiss and Make Up
30 novembre 2009 10:10
TEAMS collabore avec le label pour lancer la compilation Let's Kiss & Make Up.
Once upon a time, some toxic girls wanted to show their anger and affection.
As a result, it was just chaotic.
Several years later, some boyz, wanted to show their mellow side, they called it revenge, but it was just a smooth touch of weird mews.
So now it's time for reconciliation! So boyz and girls, girls and girls, boys and boys,please give us a breath of peace.
Let's kiss and make up is the third part of a series of compilations, following and .
2 CDs which were really hot, as XLR8R (USA) or Les Inrocks (FR) mentioned it.
XLR8R: « it's a kick ass sampler of
international musical curiosities: some of them fall into the shrinking gap
between rock and dance, others are of the ambient/ abstract/glitch ilk, and
others are novel, genre-less gems… »
Les Inrocks: « Boyz Revenge! une compilation mélodique, irrévérencieuse, troublante, infiniment touchante. »
Now it's time for reconciliation!
Like the two first issues, everything began with a cool idea of Reiko Underwater from T-A, and a call entry launched a few months ago to friends and on Internet, in order to invite artists from everywhere to submit their tracks.
Milkymee, dDamage, Mochipet, Shannon Funchess, Hypo & EDH, Davide Balula, Kumisolo, O.Lamm, ii, La Chatte, She Keeps Bees & Sharon Van Etten, Tim Fite & Danielle Stech Homsy, Zoé Wolf & Damien Mingus, Khan-Linh & Mehdi, Tha Pumpsta, Look Look! (Dancing Boys), Lemonade & Glasser, Legends, Depth Affect, Trotskids on the Block, Holy Shit, Raoul Sinier & Sylvie Fretet, Kids of the Ranch, Shady Ladies join the project.
Including 23 exclusive tracks from a wide range of music genres and artists who come from Europe and USA.
What is TEAMS doing in this story?
– We are in charge of the digital distribution on web and mobile download services like iTunes,
AmazonMP3, 7Digital, Napster, Emusic and many more…
– We spread full tracks available on various social media and streaming services like LastFm, Deezer or Spotify.
– We help for PR, with sharing our address book,and broadcasting the digital press-kit to our music industry & media contacts and bloggers network.
– We support T-A in every steps of the compilation development, including the physical release period and the distribution issues of it:
Prepaid Download Card + lipstick: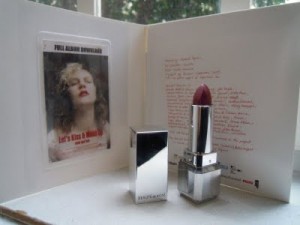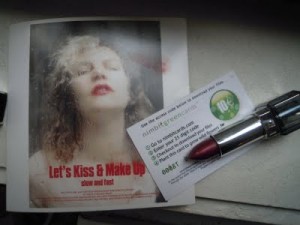 Get the music with the unique code back on the handmade seed paper card. An exclusive wildflower cardstock, these are the ultimate in eco-friendly digital distribution. Once redeemed, these cards can be planted in the ground to grow wildflowers!
Yes, after your download (MP3 320 kbps), you can plant this card, and a flower will grow. For real!
Planting Instructions:
1. Tear the paper into pieces
2. Soak in water and spread out under 1/4″ of loose, well-drained soil.
3. Keep warm and moist.
4. With proper care, the paper will recycle into the soil, and the seeds will sprout into Black-eyed Susan's. (Sprouting time should be 2-4 weeks. )